About Us
The family run business is led by Lindy Willis who has over 30 years of experience having started in the aggregate industry in 1983. At the beginning of 2009, Willis Aggregates took over C. Ainsworth and Son. Ainsworth's had been opperating for over 40 years at this point. The two businesses combined to become Willis Aggregates Inc. Ainsworth. In 2012 we rebranded to become Willis & Ainsworth Ltd.
Competitive and efficient
The company has worked har to establish a reputation that is a: efficient, friendly and competitive service. We pride ourselves on being able to offer any size load you want on any vehicle you would like. We specialise in tight acces jobs with 3 different vehicle sizes in our own fleet. Over the yers we have established a network of local hauliers to help with all kinds of logisitcal needs.
Having always operated in the Thames Valley / Berkshire area we have a vast knowledge of all local sands and gravels and their varying colours. We are always happy to try to help you find the most complimentary product available if you are trying to match existing material. We are also able to help and advise on decorative and ornamental gravels, which are not local and source gravels from Scotland to Cornwall to meet your specific needs.
"From a teaspoon full, to a 10 tonne tipper full."

- Lindy Willis

(circa 1993)
Soil, Bark, Screed & More!
Many people are supprised to find we supply more than just sand and gravel.
Over the many years we have been opperating we have sourced many decorative and specialist products to help with all your gardening, building and landcaping needs.
We offer to name but a few:
BS3882 Topsoil. Ornamental Woodchip, Play Bark and Play Chip. Screed with and without fibers. Type 3 and the all the materials needed for SUDS.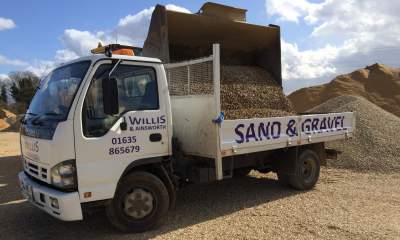 More than just an aggregate supplier.
With the merger of the two companies we added salt supplies to our list of products when we acquired C. Ainsworth and Son.
At the end of 2014 we launched the salt shop. This is the delivery arm for water softener salt.
We supply all type of salt for commercial and domestic properties. Including all forms of water softener salt. Tablets, granular and block salt. We also supply brown rock salt and white de icing salt including contract refills of grit bins for local parish councils.
Our coverage area has expanded over the years to include deliveires to: Berkshire, Slough, South Oxfordshire, Hampshire and Wiltshire.